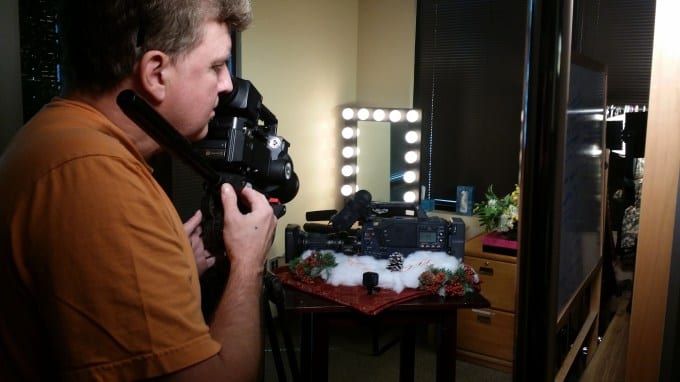 Each year, the team at Spectrum Video & Film creates its highly anticipated and perhaps infamous, holiday video card. We celebrate and give thanks to all the clients we worked with throughout the year and hopefully give them a good laugh. And, every year we like to showcase new equipment and different post-production techniques while striving to outdo what we've done the previous year. This year we became inspired to showcase almost everything we do and wondered why more businesses don't take a more creative, and entertaining, approach to their year-end messaging.
When creating the 2016 video message we kept asking ourselves what certain clients, vendors and associates would want to see – inspiring us to make it the best it could be. And, once the video message was sent, we immediately starting getting questions about the process:
"Why did you shoot in the bathroom?"
"What's in the red Solo cup?"
"Is that really you singing?"
So, while not your typical blog of "5 steps to this or that," I decided to provide a glimpse into the process, because sometimes that's more helpful than how-to lists.
While I had the idea of doing a "12 Days of Christmas" take-off, It wasn't until Bob Goldstein began writing the script that we knew just how fun the video would be. With Bob and the Spectrum team bouncing ideas off each other, the script came together with relatively few revisions, thanks to John Friesen, Liz Morris and Robert Troub.
With two and a half days of shooting (in between doing our actual jobs) on the schedule, Dave Thompson and Mike Sweeney captured the essence of the message. We shot at our Phoenix office in every edit bay, the conference room, the studio, the lobby, the kitchen and even the bathroom. Let's not forget the exterior drone shots. So why shoot in the refrigerator and the bathroom? I gave Dave and Mike one direction as they shot, no two scenes could be the same. So they got creative knowing the edit bays and offices all looked similar. Why not put our Telly awards in the fridge? In all, there were 44 live action scenes shot.
The editing and animation took Robert two full days. The singing took place in front of the green screen in our studio. Each background called for different color correction and adjustments for us to fit. Some had multiple layers and effects. After Effects was used for the motion graphics, which were customized templates available for any of our clients' projects.
GoAnimate was used to created the animation sections. The original lyric was "6 Cartoon Characters" which is why there are 6 characters in each scene, with Santa and the reindeer joining the four of us. The lyric was changed to "6 animations" to better fit the flow of the song, but the animations stayed the same.
And, yes, that is actually us singing, or trying to sing, using the teleprompter. We sang the song in its entirety in our first two takes, and what you hear in the final video is both takes layered together to give a fuller sound. This also helped hide how horrible we all sing and, if you listen closely, you can hear differences in each take, such as one of us falling behind and catching up or forgetting the lyrics. The finishing touch was adding the on-screen lyrics and animating the bouncing Santa hat for viewers to follow along and sing with us.
The answer to the most asked question – the red Solo cup was just a prop for John.
If you haven't seen the video message, please check it out https://vimeo.com/196362087

You know why we do it, so why should you?
Not only is it great for company morale to use internally, it's also a fun way to advertise your business during the holidays.
It reminds your current clients and customers that you're still here and hopefully brings in new business for the new year.
One such example of this type of holiday messaging is Cypress Home Care, which uses Spectrum Video to create its holiday video each year, often designing it in a manner that can be used after the holiday season for continued advertising.
Article by Ken Liljegren, owner and president of Spectrum Video & Film. Spectrum Video & Film is a professional video production company in Scottsdale and Phoenix, Arizona specializing in corporate, commercial and online social media videos, as well as projection, lighting and sound. To find out more about how we can help with your next video or event, visit us at spectrumvideoandfilm.com.