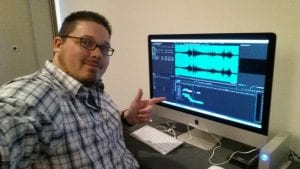 Most professional edit scenarios take place in an edit suite designed specifically to make the video editor's job as intuitive and efficient as possible – powerful edit system, multiple monitors, high quality speakers, controllable lighting and a comfortable area for clients to view the work. But sometimes a client requires such an immediate turnaround time that taking footage back to the edit suite just isn't the most viable option.  So the editor must hit the road and work on location where anything can happen.
Clients who hire editors for on-location projects are often from out of town. They are handling a number of other tasks revolving around the project that you ultimately will be editing – the event, crews, talent, location logistics and most importantly, opportunities that arise with the energy and focus at that very moment.
The client will already be stretched in multiple directions. It's the production company's job to put the client at ease and make them feel comfortable about the decision to hire you.
Make sure your editor has the editing skills the client is looking for, and then some. Is it a simple content edit, or do they need animation or effects? While being adept in the areas the client asks for is necessary, it's always ideal if the editor is well versed in many areas.  The ability to jump between different types of edits and software programs on the whim is invaluable in an environment were last-minute requests can, and will, arise.
Next, it's imperative that the editor has the personality and flexibility to work on demand while on location. Call times might change, emergency edits might be required, overtime might be needed or there simply might just be a lot of down time. The editor needs to have the temperament to handle what comes and be professional with the client. That temperament will come in handy to deal with the editing environment, which may not always be ideal – editing at a hotel buffet table, in a banquet room chair with no control of the thermostat, under fluorescent lighting. If you are an on-site editor, expect the unexpected.
Keeping a small footprint will allow for the most flexibility to setup in any on-location environment and make a sudden location change much more timely and manageable. Laptops and all-in-one machines such as Apple's iMac, are ideal in these situations by minimizing the amount of equipment, cables and table space to setup and strike.
All this, and having the brains to quickly understand the content of the project and the message to be delivered will put the client at ease. Knowing they've found someone they can throw anything at and not have to micro-manage will keep the client coming back for more business in the future, and possibly even bring you to them.
With the right person and the right equipment, on-site editing is a fun part of the production business. It offers the chance to meet new clients and often to travel.
And, there is no better reward than when the client thanks you for a job well done.
For help with your on-location editing, visit us at Spectrum Video & Film.
Article by Ken Liljegren, owner and president of Spectrum Video & Film. Spectrum Video & Film is a professional video production company in Scottsdale and Phoenix, Arizona specializing in corporate, commercial and online social media videos, as well as projection, lighting and sound. To find out more about how we can help with your next video or event, visit us at spectrumvideoandfilm.com.