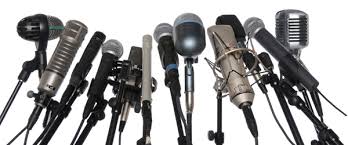 Spectrum has had the opportunity the past two years to provide audio, lighting and pipe and drape for the Fiesta Bowl and Cactus Bowl media days and press conferences.
For optimum sound you need clean power and no audio interference, but if you get an audio buzz or hum, here are some tips to fix it.
The first thing to consider is the power trail. A typical environment would be power originating from the hotel or stadium. We were at the University of Phoenix Stadium when we recorded the link below.
Our power trail at the stadium was a Hubbell connector to a 5 wire Camlock into a power distribution. We had our 10 Lekos lights on the same power as the audio. At the resort location for media days, it was a 5 wire Camlock to our power distribution and we had about 20 Lekos. We received buzz in both locations. Using an attenuator and a ground lift at the press box interface eliminated the buzz and provided proper sound levels to audio devices plugged into the press box. Up to 40 inputs of our press box were being used at once.
It's also important to never run audio cables parallel with power cables or too close to items such as a computer hard drive, wireless router or lighting controller, since noise or hum can be picked up that way, too. A ground lift or iso transformer won't help those situations.
So how do you prepare?
Come stocked with Humbuckers, ground lifts and attenuators.
Use an uninterrupted power supply (UPS) for your primary mixer, as this strips the power and conditions it, making the audio cleaner.
And use the Humbuckers for your speakers – we slip them in as a loop through with a short XLR.
The video link below is a live 45-second presentation of what a ground lift and an audio attenuator sounded like out of a press box with and without. This is a great option on some press boxes when needed, and makes the difference between unusable audio, and crisp, professional audio.
Let us know if you have any ideas or questions on eliminating audio buzz. Hope this helps our audio friends.
Visit www.spectrumvideoandfilm.com for all your audio visual needs.
Article by Ken Liljegren, owner and president of Spectrum Video & Film. Spectrum Video & Film is a professional video production company in Scottsdale and Phoenix, Arizona specializing in corporate, commercial and online social media videos, as well as projection, lighting and sound. To find out more about how we can help with your next video or event, visit us at spectrumvideoandfilm.com.